Bistro Kaprova
Bistro Kaprova - Bistro in the Heart of Prague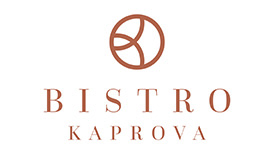 The charming bistro and restaurant Bistro Kaprova is located in the heart of historical Prague just 450 meters from the Staroměstské náměstí a few steps from the neo-renaissance Rudolfinum building. At Bistro Kaprova you can have a breakfast, lunch or dinner but you can just sit there with friends and have a glass of wine, drink or coffee.
Local menu combines popular Mediterranean cuisine: Italian, Spanish, Greek, French with Austrian or Czech gastronomy enriched by the modern approach. Among other things, the restaurant cooperates with Vencl's farm in the Orlické hory, where Scottish mountain cattle breed in absolutely unique natural conditions. Beef and its products are of high quality and have a great taste. Especially for Bistro Kaprova Prosecco D.O.C. is produced near Treviso, Italy in the La Farra di Soligo winery. Wine grown in the fertile Venice Plain is among the best thanks to high-quality hand-picked grapes and the technology with which they are processed.
Number of rooms

1

Capacity

63 seated / 80 standing

Cuisine

Italian, Czech, Mediterranean, French

Main course

325–445 Kč
Restaurant rooms
Bistro Kaprova
The charming bistro and restaurant with an unique atmosphere in the heart of historical Prague has a wonderful history. For years there was the legendary bookstore, which appeared in the famous Czech comedy 'Waiter, Scarper!'. Part of the bookstore has been preserved in Bistro Kaprova due to nostalgia and the respect for the space, so guests can make use of the bookshop not only to buy books, but also as a reading room or place to enjoy their coffee. The downstairs of the Bistro is ideal for informal meetings, on the other hand the more calm gallery is great for business meetings or romantic appointments. Thanks to Jaromír Pizinger, the acclaimed Czech architect is Bistro Kaprova a rare place with the extraordinary charisma.
Seating capacity

63

Standing capacity

70