Indian Jewel
Steps from Old Town Square enjoy a luxurious setting and authentic Indian dining in Prague.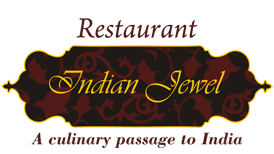 The Indian Jewel offers you a visual treat with hand carved woodwork and jewelry adorning the walls along with an open Tandoori Kitchen in the restaurant. Our food is authentic Indian cuisine with starters of Pakoras, Samosas and Tandoori items prepared in front of you.
Number of rooms

2

Capacity

50 seated / 70 standing

Cuisine

Indian

Main course

190–400 Kč
accessible, offsite catering, no-smoking area, hotel rooms, takes credit cards
Offsite Catering
We cater warm food according to your convenience and preference of venue. You can choose the items or choose from our various fixed Menus which contain starters, main course, desserts and accompaniments of poppadums, pickles, Indian cold sauces, Basmati rice and a variety of freshly baked breads from our tandoori oven (clay oven).
Restaurant rooms
Main Restaurant
Situated in a Historic 9th century building with authentic decor and attractive colored lighting. Jewelry draped pictures of Indian women, as well as hand carved jewelry in white marble and mythological hand carved woodwork. The restaurant can be used for formal events, personal parties and festival celebrations for lunch, cocktail and dinner.
Seating capacity

50

Standing capacity

70
Summer Garden
Indian Jewel is located in 'Ungelt Square' hidden behind the Týn Church on Old Town Square. You can observe the beautiful Czech architecture whilst dining at the most authentic and considered the number 1 Indian restaurant in Prague. The delight of dining on food once eaten by the Kings and Moghul Emperors under the huge tree in the open air is unsurpassed!
Seating capacity

50

Standing capacity

0