Pepe Lopez Restaurante Mexicano
The Real Taste of Mexico - Four Floors Full of Extraordinary Experiences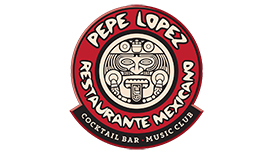 Four floors full of extraordinary experiences - a restaurant with a unique design sophisticated to the smallest detail with live music, a cocktail bar serving drinks from tequila and fresh fruit and a music club offering attractive space for special events. Add delicious food and friendly service and experience the real taste of Mexico.
Number of rooms

2

Capacity

300 seated / 500 standing

Cuisine

International, Fish & Seafood, Steakhouse

Main course

199–499 Kč
accessible, no-smoking area, av equipment on premises
Restaurant rooms
Upstairs dining area
Great upstairs space for a private or business fiesta. Live music every Wednesday through Saturday evening and a dance area floor below. Come try the delightful chimichangas and much more.
Seating capacity

20

Standing capacity

30
Lower restaurant with bar
Welcome to Mexico is the first thing on your mind when you walk in. Bright color walls, authentic furniture, tables and booths; a grand fish tank with Nemo and his friends and a bar with any cocktail you can think of. Even a dinner is fun here.
Seating capacity

130

Standing capacity

200