U Sedmi Švábů
The first, truly medieval tavern in Prague located just below the Prague Castle.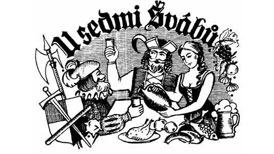 It is if time stopped at 1493 at U Sedmi Švábů tavern. Enjoy the "medieval" atmosphere and taste some of our specialities that you will find nowhere else. From time to time you can even meet swordsmen, jugglers, and fire-eaters while listening to medieval music.
Number of rooms

3

Capacity

110 seated / 130 standing

Cuisine

Czech, Medieval

Main course

135–465 Kč
takes credit cards
Restaurant rooms
Small Salon
The intimate setting under the Prague Castle provides the perfect space for family and group celebrations. Enjoy privacy while tasting old Czech specialties like honey cake and fruit dumplings with cottage cheese and sugar. The burning fireplace and lit candles will take you back in time.
Seating capacity

25

Standing capacity

35
Large Salon
The perfect place for a family or company party. Fantastic traditional Czech food, warm honey wine and an unforgetable atmosphere. On Fridays and Saturdays you can come for a medieval show featuring fire juggling and dancers.
Seating capacity

40

Standing capacity

55
Main Restaurant
Crackling wood in a fireplace, candles burning, hops decorating the ceiling and generous portions of medieval and typical Czech specialties. Come warm up with homemade hot mead (honey wine) and baked pork ribs with honey, horseradish and mustard.
Seating capacity

55

Standing capacity

70