Café Buddha
Hidden Thai Gem with Authentic Cooking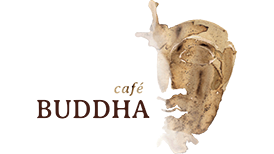 Thai and sushi restaurant Cafe Buddha Balbínova is a small charming place with an authentic touch of Thailand, where the cuisine is truly according to ancient Thai recipes from its grandmothers. Chef Lucky is from a small village Petchaburi and the headchef, who is also the owner will make you feel like you are in Thailand. Come let your soul relax....
Number of rooms

1

Capacity

24 seated / 30 standing

Cuisine

Sushi, Asian, Thai

Main course

245–300 Kč
no-smoking area, takes credit cards
Restaurant rooms
Dining Room
We cook according to traditional "ancient" and asian "pan-asian" recipes that we collected on our journey through Asia, from fresh and exotic ingrediences and without any fuss. Our chefs are Thai and our food is every inch an original. You will not get in our restaurant an imitation or a copy.
Seating capacity

22

Standing capacity

30