The Dutch Pub Steak & Burger
Unique Combination of Restaurant and Sports Bar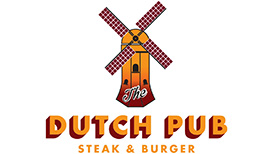 The stylish Dutch Pub restaurant is known for it's select offer of unfiltered tap beer and excellent cuisine focused on Steaks & Burgers. The unique Dutch colonial design interior provides a friendly environment filled with pulsating life and atmosphere of a sports bar where you can watch live broadcast on a giant screen.
Number of rooms

1

Capacity

220 seated / 250 standing

Cuisine

Czech, International, Fish & Seafood, American, Steakhouse

Main course

155–495 Kč
parking, no-smoking area, takes credit cards, av equipment on premises
Restaurant rooms
Main Dining Room
The restaurant is divided into three sections. The front room with capacity of 66 people has a hand-carved impressive bar and a large screen showing sport events. The second section has three tables with booths overlooking open kitchen in the middle of the restaurant and is great for dinner. And the back room is ideal for private or company events and has access to outside seating in a courtyard. Burgers and steaks are the specialty.
Seating capacity

160

Standing capacity

200