Brewery and Restaurant Marina
We continue with tradition of making Holešovice beer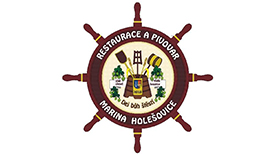 Marina is a romantic setting on the banks of the Vltava river in the area of Holešovice docks. Guests can enjoy stylish dining in our Mediterranean restaurant and a pleasant time in the Czech brasserie - where one can try classic beers as well as higher degree specials from our own on-site brewery.
Number of rooms

2

Capacity

350 seated / 400 standing

Cuisine

Italian, Czech, Fish & Seafood, Mediterranean

Main course

149–539 Kč
accessible, parking, no-smoking area, takes credit cards, av equipment on premises
Restaurant rooms
Italian Restaurant
Enjoy your dining experience with meals prepared by our top Italian and Czech chefs. We have an open kitchen where you can see your meal being prepared. Our professional waiters will help you with your selection and live music will accompany your evening.
Seating capacity

140

Standing capacity

160
Brasserie
Brewery Marina continues with the tradition of making Holešovice beer. Our guests can try the following draft beers: Přístavní světlé výčepní 10% (Light beer), Holešovický světlý ležák 12% (Premium lager beer), Marina tmavý speciál 13% (Dark beer), Pšeničné světlé pivo 11% (Wheat beer).
Seating capacity

246

Standing capacity

264