U Modré Kachničky
Exceptional Czech cuisine and flavor in classy Prague 1 restaurant with 1930s inspired interior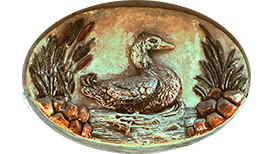 Tease your taste buds right in the pounding heart of historical Prague. Experience the exceptional flavor of traditional Czech cuisine in the classy and comfort of the 1930s inspired restaurant interior. Ideal for a light lunchtime menu with your business buddies, late afternoon cocktail or a relaxed dining with your loved ones at the end of a tiring day. Exceptional Czech cuisine and flavor in classy Prague 1 restaurant with 1930s inspired interior
Number of rooms

3

Capacity

90 seated / 110 standing

Cuisine

Czech, International

Main course

395–595 Kč
accessible, no-smoking area, takes credit cards
Restaurant rooms
Atrium
U Modré Kachničky specializes in delightful duck and game dishes that are certain to satisfy all of your cravings and desires. Come spoil yourself and save a room for dessert. Following your main course, a rich variety of tempting desserts await you.
Seating capacity

16

Standing capacity

20
Street view dining room
Designed to reflect the ambience of bourgeois saloons, the stylish interior brings back to life the atmosphere of Prague's 1920s and 1930s. Leave the frenzied boulevard behind the closed-door and breathe in the comforting air of the good old times.
Seating capacity

28

Standing capacity

35
Main Dining Floor
U Modré Kachničky will entertain all your senses completing the concert of flavors and colors with some fine tunes. The live piano music provides the right romantic kick to your chic dining experience. Your stomach will be humming Rhapsody in Blue for you all the way home!
Seating capacity

45

Standing capacity

55